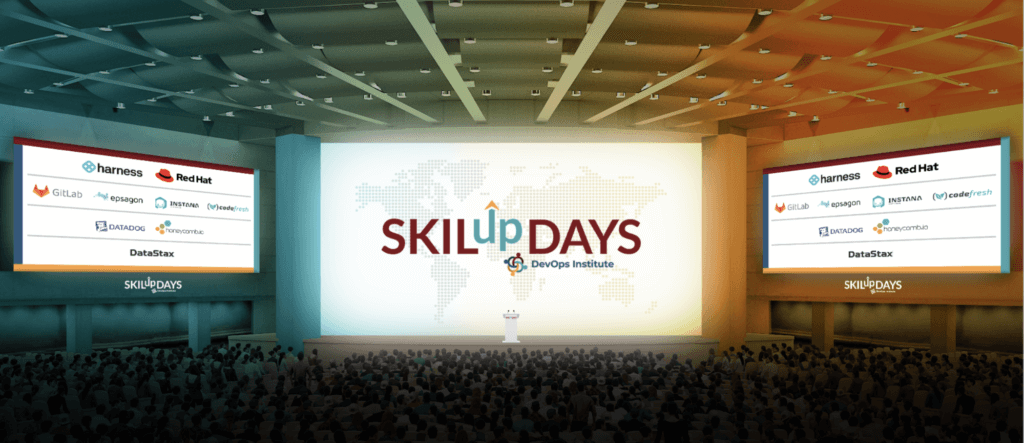 The one-day virtual conference explored the management of the value stream process in order to create flow while highlighting the human aspects of value stream management (VSM). SKILup Day featured 'how-to' lessons from speakers: Helen Beal, Jayne Groll, Jason Baum, BMK Lakshminarayanan, Steve Pereira, Jeff Keyes, Tiffany Jachja, Tom Henricksen, Donna Knapp, Biswajit Mohapatra, Hope Lynch, Mark Peters, Suresh GP, Satyan Prakash, Andre Pino, Vanessa Vallely, Neelan Choksi, Peter Maddison, Lance Knight, Rohit (RJ) Jainendra, Brian Muskoff, and Richard Knaster.
In addition to a full day of sessions, the event offered yoga, a leaderboard challenge, networking lounge, exhibit hall, resource library, and even a DevOps-inspired mixology class!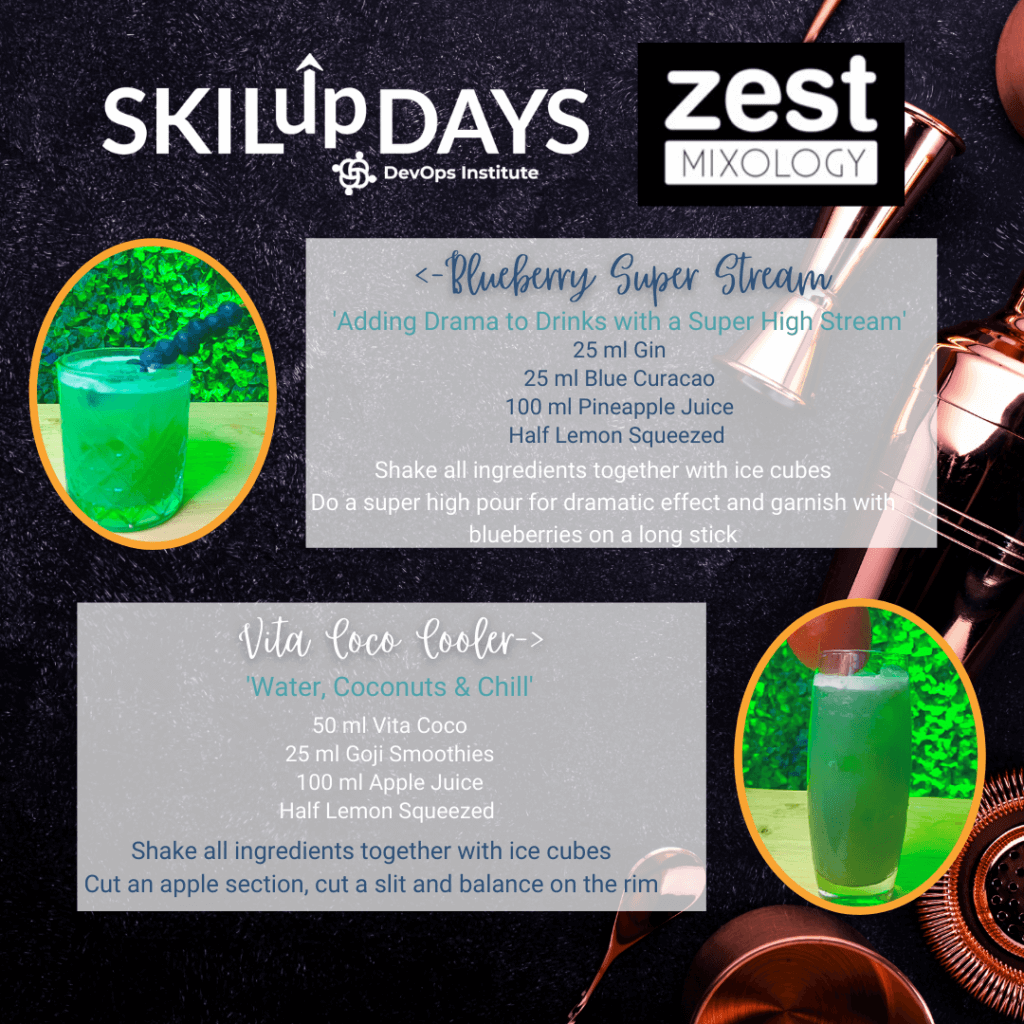 If you missed the VSM SKILup Day, we've got you covered with a quick round-up of the top themes that emerged from the sessions and conversations at the live event.
You may ask, why devote a full day of learning to Value Stream Management?
VSM is a combination of people, process, and technology that maps, optimizes, visualizes and governs business value flow (including epics, stories, work items) through heterogeneous enterprise software delivery pipelines. Value Stream Thinking is quickly emerging as an essential element of DevOps strategy. The March SKILup Day offered an in-depth look at these trending topics from some of the top thought leaders in the industry.
SKILup Day speakers covered several trending themes, including an introduction to various aspects of VSM, an in-depth look at managing the value stream process, VSM challenges and requirements, and real-life use cases and experiences. Below we look at key quotes and discussion points from the day.
An Intro to Value Stream Management
A key theme among speakers at SKILup Day was introducing the audience to a variety of aspects of VSM. In Helen Beal's opening keynote presentation, "How to Implement Value Stream Management," she discussed the origins of VSM and why she considers it to be the next generation of DevOps. She also explored what analysts say, how do you implement VSM, who is it for, and what are the human aspects. "Where do you start? You start where you are!" she explained.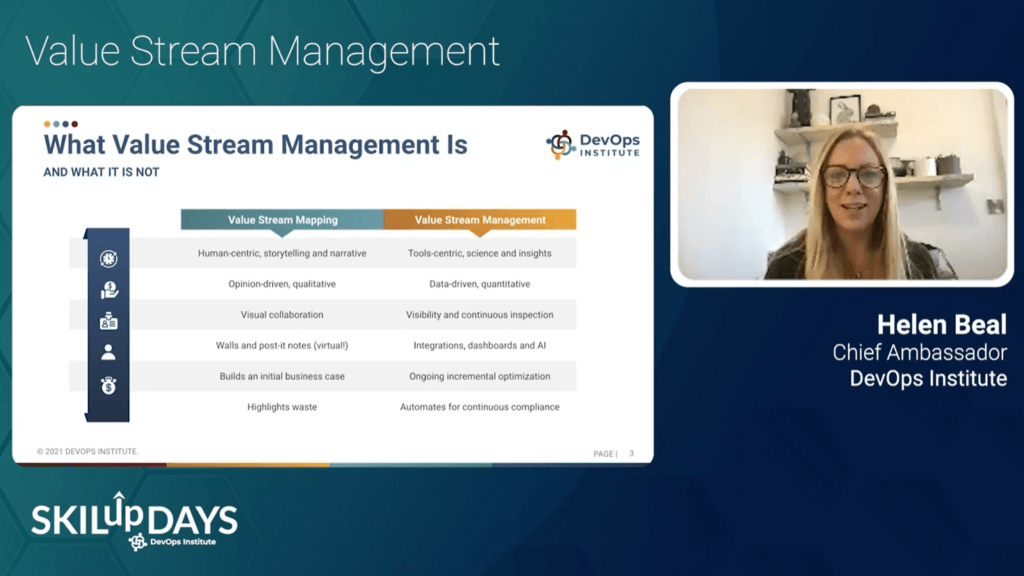 In Biswajit Mohapatra's lightning session, he emphasized that "introspective, observation and envision are the pillars in your value stream map to rebuild business around experiences." He added, "the Value Stream Management framework will accelerate customers' digital transformation journey."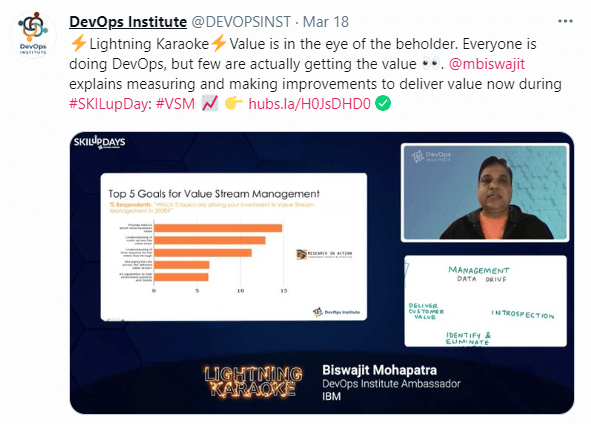 "Value Stream Management is all about making it possible for you to see what's going on in your value streams," said Neelan Choksi. Choksi presented a value stream mapping exercise to viewers during his session, "Applied VSM Practices: The Flow of Value in Software Delivery." He emphasized that not everyone is going to turn into the largest software company in the world, but if you don't find a way out of the [technical] debt spiral, there's no chance you're ever going to have that possibility. Once you reduce technical debt, you can get back to feature work.
Being that VSM is still an emerging market and 2020 saw it receive unprecedented attention from a whole host of global technology analysts, Helen Beal, Mark Peters, Donna Knapp, and Suresh GP joined a panel to discuss, "The Past, Present and Future of VSM." Suresh GP's hot take was, "Forget about DevOps, if you don't get your value stream mapping exercise done in the first place, you're not going to achieve anything worthwhile". While Donna and Mark debated the need for a VSM leader when managing value should be everyone's responsibility.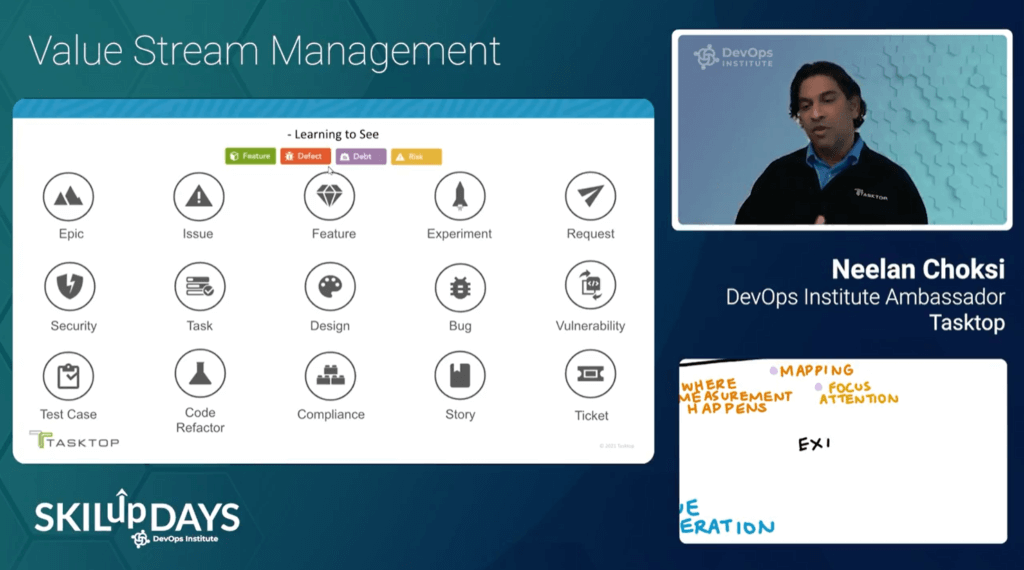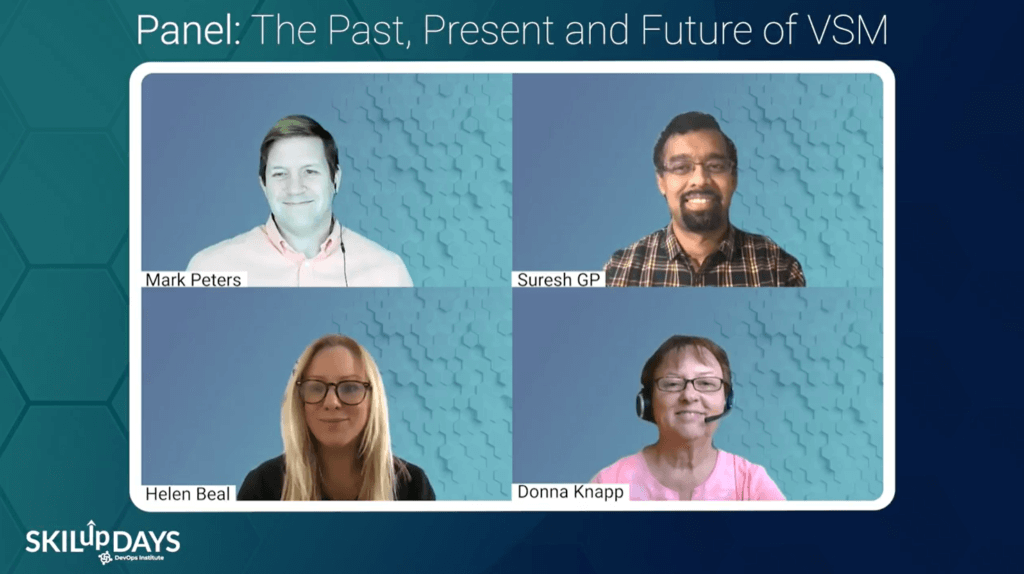 Managing, Measuring and Interpreting the Value Flow
Jeff Keyes shared unique insights during his session, "Accelerating Value Flow: Moving Beyond Story Points." He explained why you should care about value stream flow metrics, what they are, how to calculate them, and what to interpret from them. Further, he argued that the traditional focus of only story points distracts from the ultimate goal of eliminating bottlenecks and accelerating value to customers. By looking at all of the flow metrics you can eliminate the choke points of delivering value to your customers.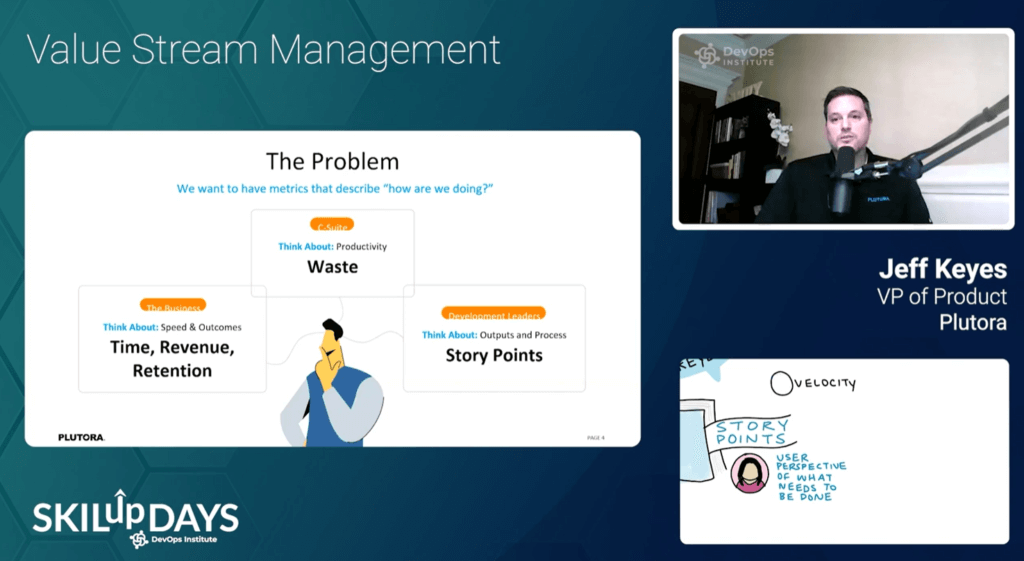 In a lightning talk session, Satyan Prakash gave quick, tangible advice on how to do VSM for different types of value streams and at all levels of granularity. He focused on defining and measuring value and flow. He shared measurement metrics that fall into three key categories: technical, product and business. He also explained the Improvement Kata technique for managing the value stream process that borrows from lean thinking.
Many speakers also had specific insights on how VSM borrows from lean thinking. Tiffany Jachja gave helpful tips to avoid pitfalls of lean thinking during her session, "Managing the Process: Fundamentals in Lean Thinking." Further, she shared lean thinking practices that can help your software delivery processes. Like many speakers, Jachja agreed, "It's a shared responsibility to be able to deliver value."
During the session, "Overcoming The Enterprise Great Disconnect," BMK Lakshminarayanan  shared a unique perspective that "every organization is an IT organization." Lakshminarayanan also shared key elements of VSM: optimizing the organizational functions and processes to "Flow;" making the work and flow visible to everyone; and measuring what matters – the "Flow" with the help of Flow Metrics.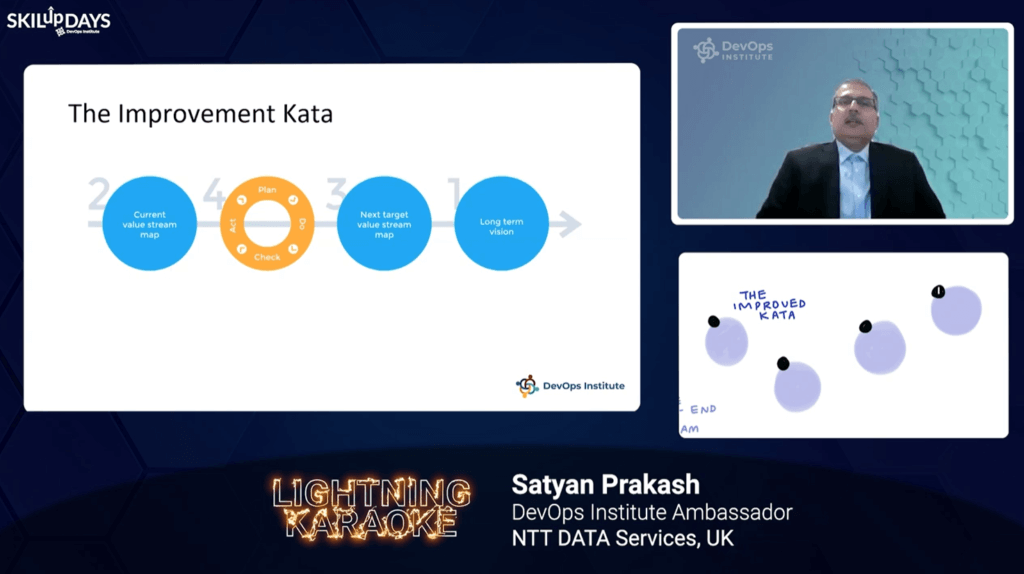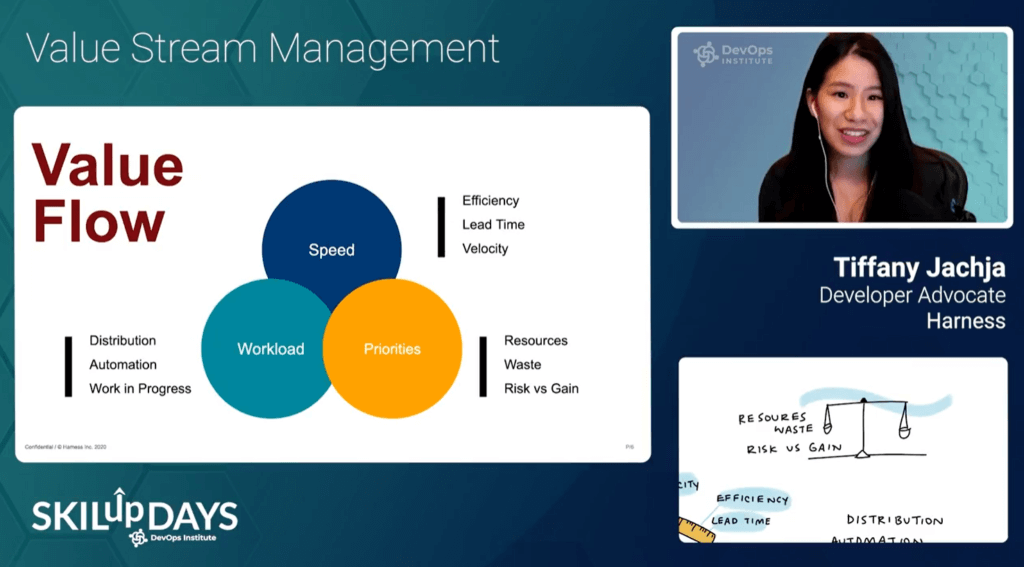 The Human Element of Value Stream Management
The theme of empathy came up during several sessions. In Tom Henricksen's session, "Humans are Hard, Code is Easy," he declared, "Relationships, empathy and understanding and communication matter." He explored setting yourself apart as a developer and the importance of learning the skills of influence and collaboration. "Coding skills got you the job; influence will get you the career," he emphasized. 
The Value Stream Guy, Steve Pereira presented the session, "Value Stream Thinking."  During his session, he noted that "value stream mindset entails empathy." He added, "empathy has been the DevOps superpower since day one! Value Stream Thinking adds holistic visibility to enhance and make it easier." 
Lance Knight also took on the human element during the session, "Value Trumps Flow When Managing Value Streams." His session focused on the lean decision filter and how to apply it to improve both value and flow. He emphasized that VSM is human and introduced the value stream leader. A key takeaway that Knight left attendees with was, "Do not sacrifice value for flow-value is more important."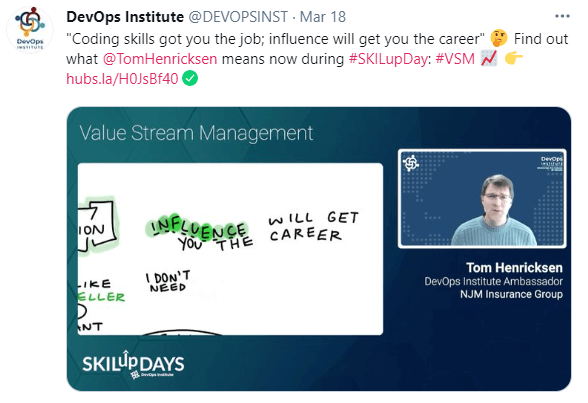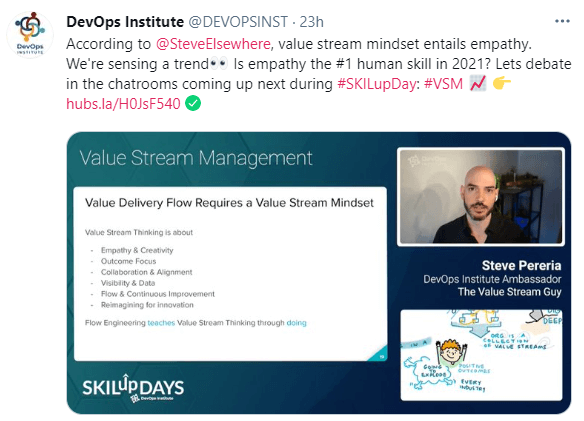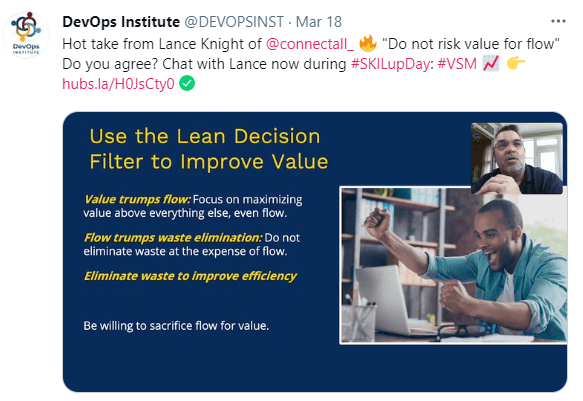 VSM: Real Life Experiences
The day continued with incredible first-hand experience from Hope Lynch. Lynch shared a true example of a team in dire straits and how the management of the value stream helped them and the entire organization. Her session, "Value Stream Management – A Retrospective," included several of her own personal learning experiences and insights to help and inspire SKILup Day attendees. One of her key tips was to "work holistically" and focus on setting KPIs, continuous improvement, and doing yearly reviews. "If every piece of work is the same priority, there is no priority," she explained.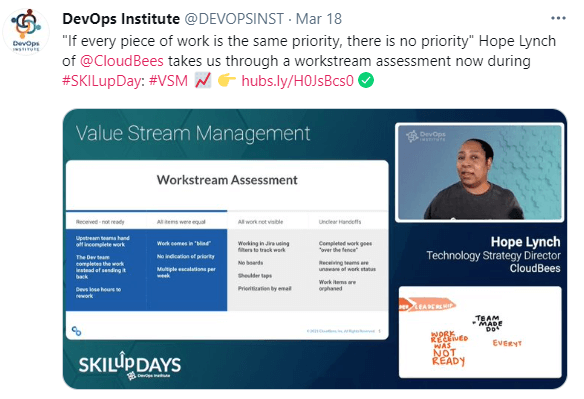 Peter Maddison introduced a unique perspective for those looking to create alignment and clarity across their organization during his session, "4 Maps of DevOps." The four maps consist of Outcome Mapping, Value Stream Mapping, Dependency Mapping and Capability Mapping. Maddison gave real-life examples of using these maps to help guide organizations. Maddison shared that, "Most value delivery efforts fail from a lack of clarity, not tools."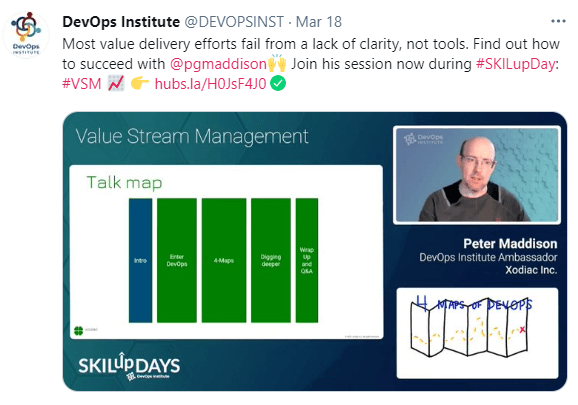 One of the last sessions of the day was a panel discussion with some of the founding members of the VSM Consortium including Brian Muskoff, Helen Beal, Neelan Choksi, Richard Knaster, Jeff Keyes, and Rohit (RJ) Jainendra. 
Brian Muskoff explained the VSM Consortium is trying to come to a common understanding of VSM. Richard Knaster shared his definition of VSM; "I see Value Stream Management encompassing the entire value delivery process. From the very idea that you have for your product or service until it's delivered into customers' hands."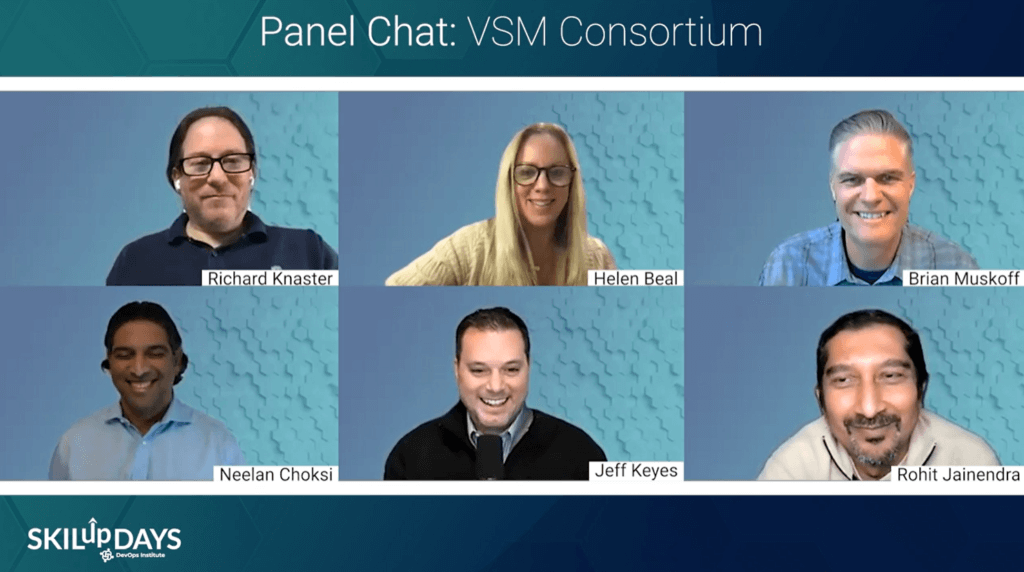 SKILup Day: Value Stream Management concluded with a fireside chat discussion on, "Memberships v's Communities v's Networks," with DevOps Institute's CEO, Jayne Groll, DevOps Institute Director of Membership, Jason Baum, as well as We Are The City's Vanessa Vallely and Andre Pino of MediaOps. 
Vanessa Vallely explained networks and communities help leverage resources between people and organizations. 
"I'm confident that the people listening at today's SKILup Day will come away with inspiration," said Jayne Groll.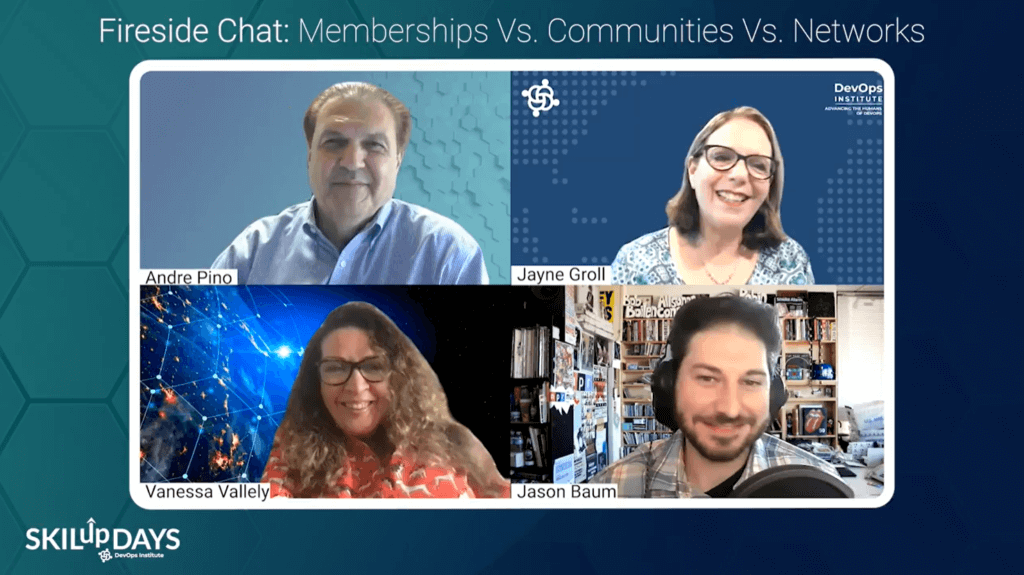 SKILup Day: VSM Visual Summaries
Want to know more about the sessions? For a quick recap of each, check out the sketches below.