IMPORTANT: PLEASE COMPLETE YOUR EXAM IN THE WEBASSESSOR EXAM PLATFORM BEFORE NOVEMBER 15, 2023. DEVOPS INSTITUTE IS TRANSITIONING EXAM PLATFORMS AFTER THIS DATE.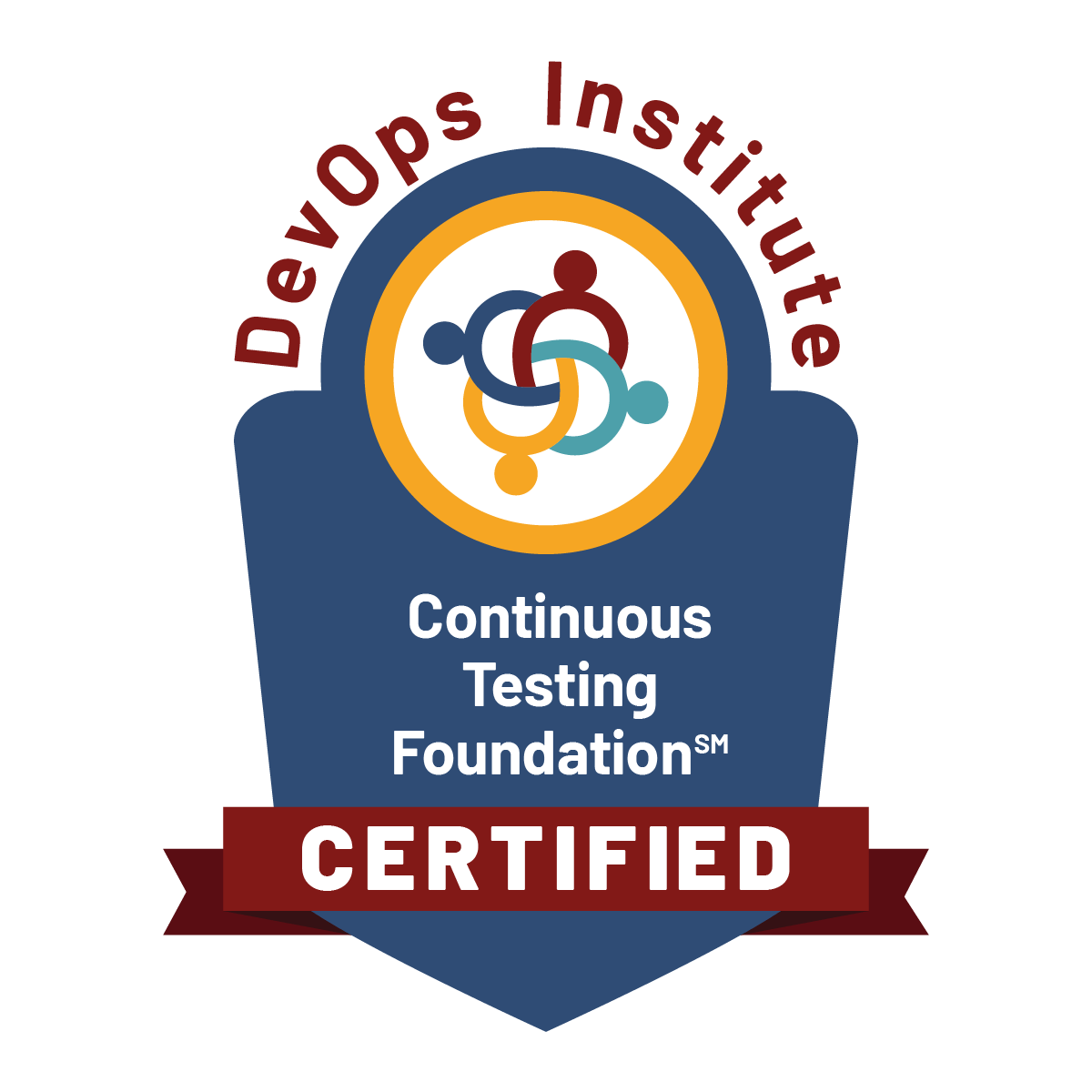 Continuous Testing Foundation (CTF)℠
Continuous Testing enables faster, higher quality releases and reduced costs by seamlessly integrating into the Continuous Delivery process to identify and address risks at all stages of the development pipeline thereby minimizing business risk and impact on customers.
To maintain the highest quality learning for our community, DevOps Institute Certifications expire two years from the date of completion. Members can maintain their certification by participating in the Continuing Education Program and earning Continuing Education Units through participation in learning opportunities.
What You'll Learn
DevOps Continuous Testing Concepts, Terminology, and Benefits
DevOps Continuous Testing and Culture
DevOps Continuous Testing Strategies
DevOps Continuous Testing Frameworks and Tools
DevOps Test Planning Best Practices
DevOps Test Automation Best Practices
DevOps Test Management and Analysis Best Practices
Defining a DevOps Test Strategy
Benefits for Organizations
Well-engineered DevOps test environments accelerate releases, improve quality, and reduce waste
Test automation improves acceptance speed and frequency of software changes
Testing results provide a source of truth that helps align teams for greater efficiency and satisfaction
Benefits for Individuals
Developers and QA career growth toward DevOps and digital transformation opportunities
Skills gained positions individuals as DevOps leaders because specific test engineering skills are key to success with DevOps
 Certification Details
Earn a credential that can lead to jobs in high growth fields
Exam Format: Multiple Choice
Certification Validity: 2 Years*
*Due to the recent acquisition of DevOps Institute by PeopleCert, certifications completed on the PeopleCert exam platform will have a validity period of 3 years from their date of issue as per PeopleCert's Continuing Professional Development program.
Learn more about our Continuing Education Program and recertification requirements to help you stay current with your skills and certifications.
Preparation: Instructor-Led Training, Online Learning, Self-Study
Qualify for In-Demand Jobs
Delivery Staff
Software Engineers
IT Managers
Maintenance and Support Staff
Quality Assurance Teams
DevOps Engineers
Project Managers
Lab Staff
Quality Assurance Managers
Release Managers
Testers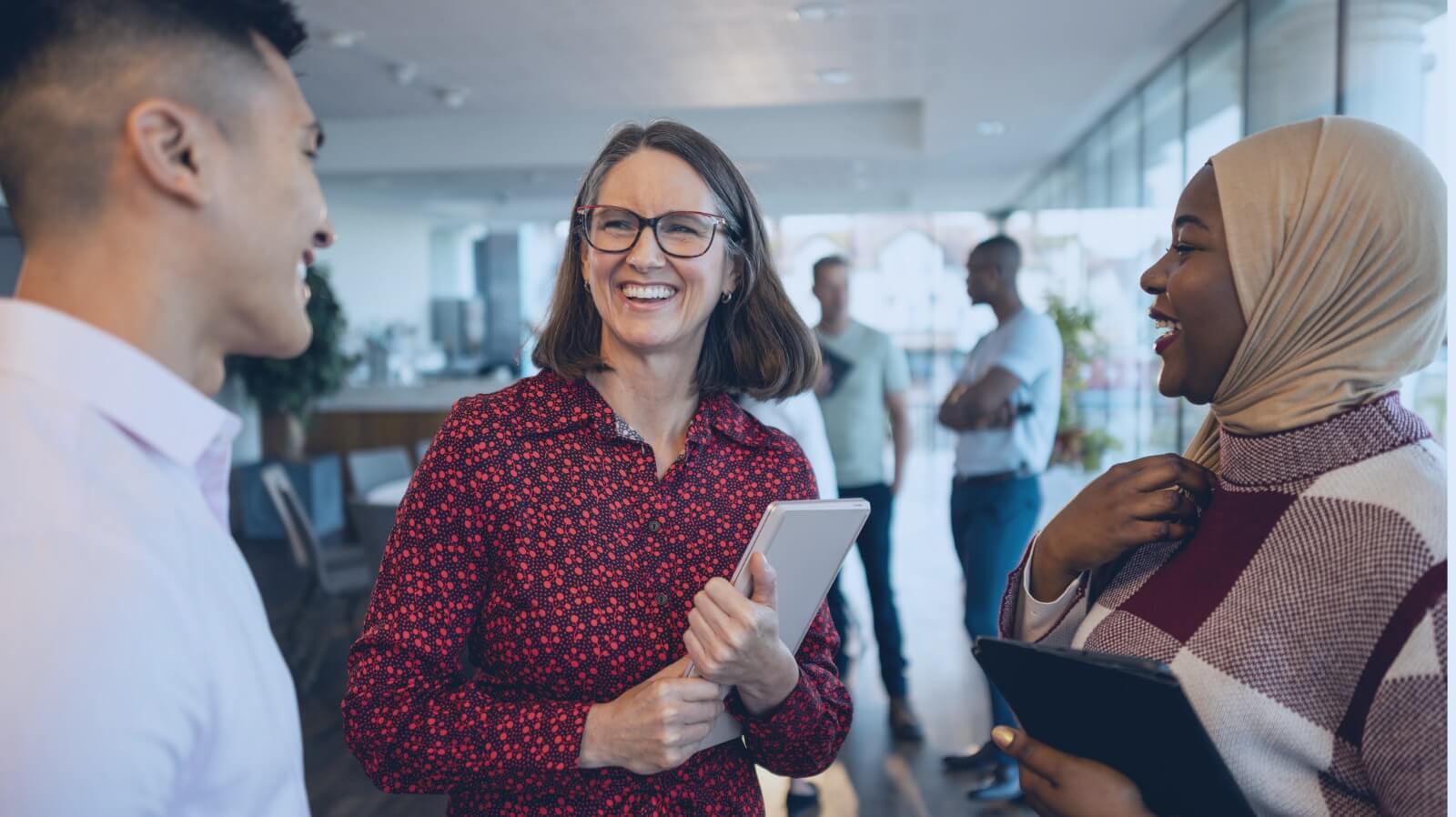 "Quality is everyone's responsibility."
-W. Edwards Deming
 Certification Blueprint
Check out the Certification Blueprint to learn more about the various topics, principles, and practices covered by this certification.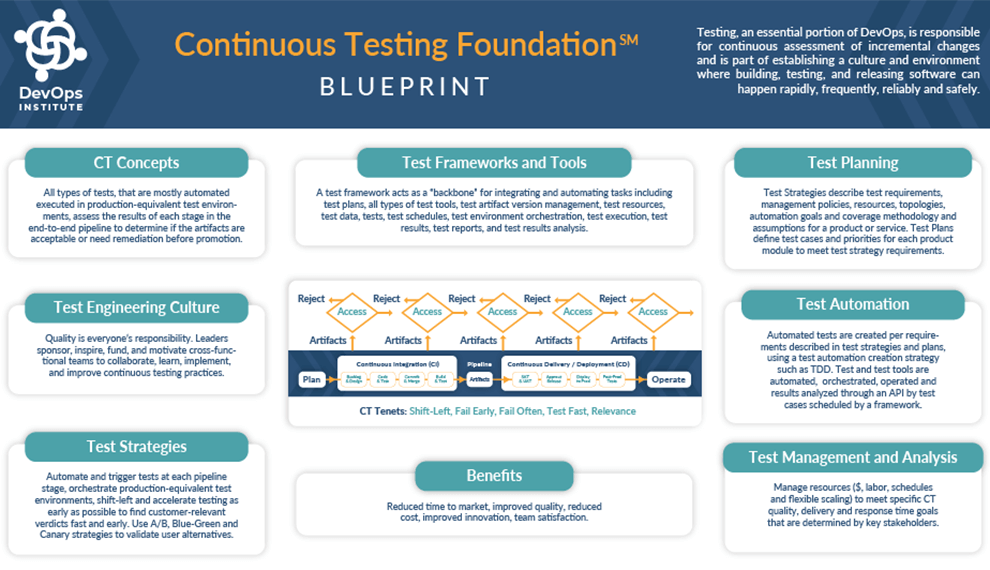 DevOps Institute Certification Pathways
Choose the path that is right for your career.

DevOps Leader
DevOps leaders sponsor, educate, motivate and monitor their DevOps teams.

IT Operations Professional
IT Operations Professional supports software reliability, automation, and more.

Developer
Developers design, implement, package, test and deploy software.

DevOps Engineer
DevOps engineers automate processes and collaborate with others.

DevOps Tester
Testers plan, create, execute, report and
analyze software tests.

Security Engineer
Security engineers collaborate to inform
security practices.

DevOps Consultant
DevOps consultants advise DevOps and SRE strategies and practices.
Trusted by Companies Worldwide