Coming Soon: Upskilling IT 2023 Annual Skills Report
Embracing Upskilling and Reskilling Within IT
The Upskilling IT 2022 Report: Empowering Professionals for the Jobs of Today and Tomorrow
This year's report reveals a critical need to close DevOps skills gaps, identifies top skills capabilities, and highlights emerging job roles to help individuals and organizations accelerate IT transformations. The response to the Upskilling IT 2022 survey was overwhelming, and we thank all who took the time to share their input. As a result, we produced four distinct reports this year – three for specific regions and one for a global perspective. We hope that you find these reports meaningful and relevant.
Download our free report to see why:
Insufficient IT resource skills are a huge challenge across the globe.

Addressing technical debt must be paired with addressing talent debt.

Upskilling is a professional and organizational imperative.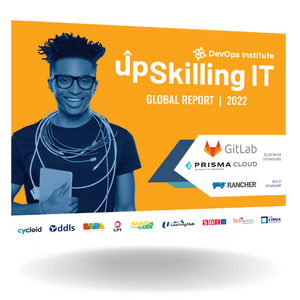 WHAT'S INSIDE?
The most critical in-demand skills for IT
The most in-demand job titles IT organizations are recruiting
Key trends regarding operating and frameworks
THANK YOU TO OUR 2023 SPONSORS



ACCESS PREVIOUS REPORTS
Indulge in all previous in-depth reports, community research insights, case studies and knowledge from DevOps Institute and industry thought leaders in the SKILup IT Learning library.