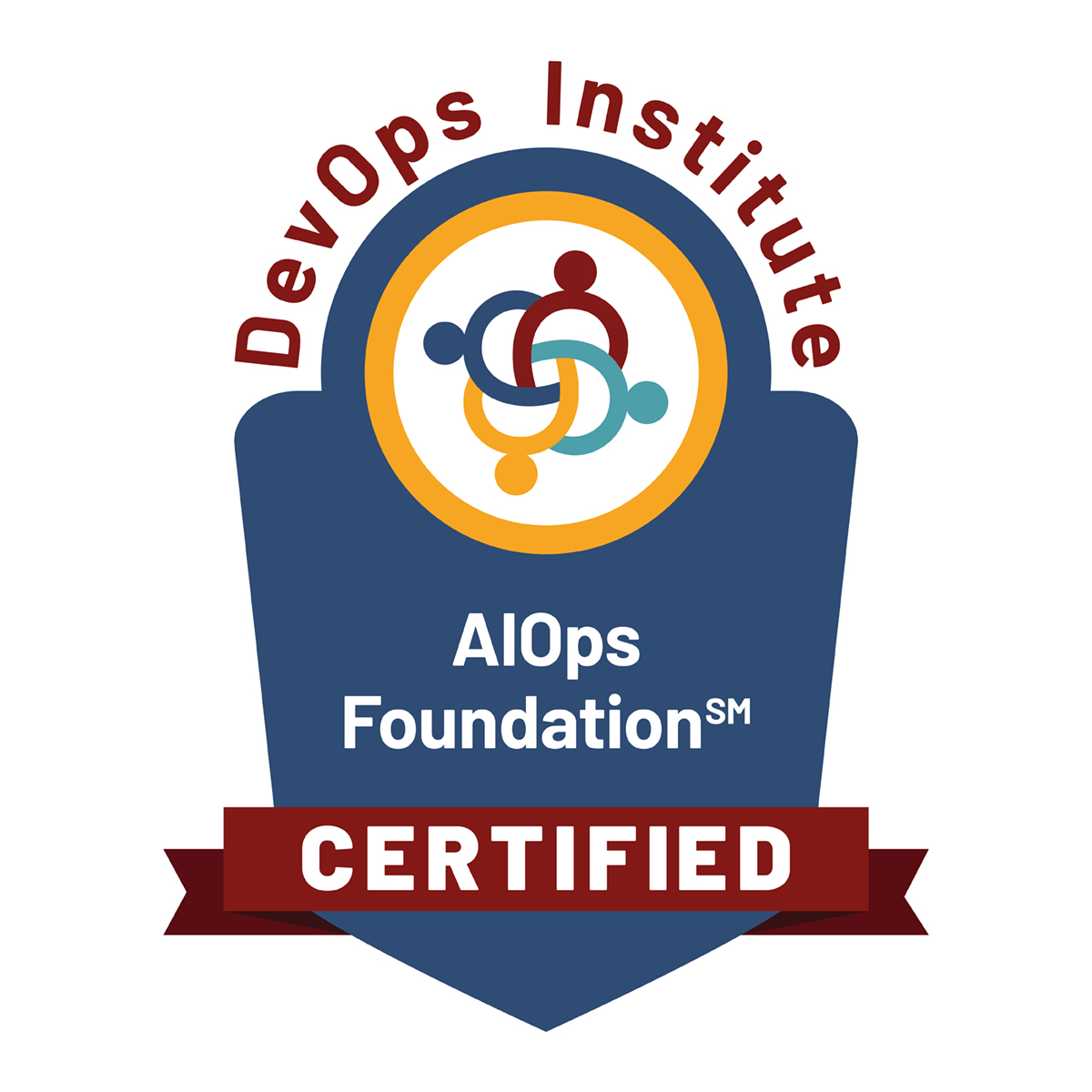 This AIOps Foundation course aims to cover the origins of AIOps, including the history behind the term, patterns that preceded it, and the technology context in which it has evolved. Learners will gain an understanding of the processes of combining big data analytics, machine learning algorithms, automation, and optimization into a single platform.  
This course introduces key principles and foundational concepts along with the core technologies of AIOps: big data and machine learning. The course will provide students with an understanding of how and why digital transformation, together with the evolution of machine learning, have brought about the rise of AIOps as an indispensable tool in today's IT Operational landscape. 
What You'll Learn
Core technologies of machine learning and big data will be discussed, as well as the basic concepts of artificial intelligence, different types of machine learning models that can be implemented, and the relationship between AIOps and MLOps, DevOps, and Site Reliability. 
 This foundation course will also provide the student with a solid understanding of the benefits of implementing AIOps in the organization, including common challenges and key steps in ensuring the valuable and successful integration of artificial intelligence in the day-to-day operations of information technology solutions. 
Benefits for Organizations
Understand the changes in mindset, collaboration, and skills for AIOps to be applied in the organization

 
Quantify outcomes of an AIOps implementation leveraging industry-standard metrics

 
Understand the usual challenges and opportunities of applying AIOps in the organization

 
Visualize the challenges, trends, and ethical considerations organizations might face while deploying an AIOps initiative

 
Benefits for Individuals
A clear understanding of the history, origins, and current developments of AIOps

 
Define and comprehend basic concepts and key principles within AIOps

 
Understand general concepts of big data and artificial intelligence and how they relate to AIOps

 
Recognize the relationship between AIOps and MLOps

 
Understand the effectiveness of AIOps deployment and possible benefits

 
 Certification Details
Earn a credential that can lead to jobs in high growth fields
Exam Format: Multiple Choice
Certification Validity: 3 Years
Learn more about our Continuing Education Program and recertification requirements to help you stay current with your skills and certifications.
Preparation: Instructor-Led Training, Online Learning, Self-Study
Qualify for In-Demand Jobs
Anyone focused on IT Operations 
Anyone interested in software in today's IT landscape 
Business Managers 
Business Stakeholders 
Change Agents 
Consultants 
DevOps Practitioners 
IT Directors 
IT Managers 
IT Team Leaders 
Product Owners 
Scrum Masters 
Software Engineers 
Site Reliability Engineers 
System Integrators 
Tool Providers 
DevOps Institute Certification Pathways
Choose the path that is right for your career.

DevOps Leader
DevOps leaders sponsor, educate, motivate and monitor their DevOps teams.

IT Operations Professional
IT Operations Professional supports software reliability, automation, and more.

Developer
Developers design, implement, package, test and deploy software.

DevOps Engineer
DevOps engineers automate processes and collaborate with others.

DevOps Tester
Testers plan, create, execute, report and
analyze software tests.

Security Engineer
Security engineers collaborate to inform
security practices.

DevOps Consultant
DevOps consultants advise DevOps and SRE strategies and practices.
Trusted by Companies Worldwide