SKILbooks
Advance Your Skills, Knowledge, Ideas, and Learning
What is a SKILbook?
SKILbooks are a collaborative body of knowledge comprising research and artifacts to help the reader understand and upskill DevOps capabilities. Each SKILbook is populated with multiple research chapter reports plus additional content for ongoing discovery, support, and actionable strategies and implementations during a DevOps journey.
For a limited time, The DevOps Journey SKILbook is offered at no cost to all DevOps Institute Members. Future SKILbooks are a benefit exclusively for Premium Members.
The DevOps Journey
The next normal requires a key focus on delivering software with quality, velocity, and value. DevOps Institute offers The DevOps Journey SKILbook to our member practitioners, leaders, and coaches who want to understand why, how, and what needs to be done to initiate and drive a DevOps journey. This SKILbook offers vision, skills, metrics, and other best practices and knowledge to start adopting DevOps.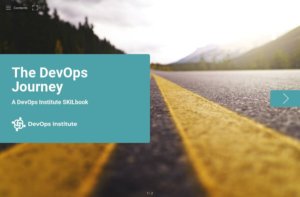 Upcoming SKILbooks
Site Reliability Engineering
DevOps Engineering
The DevOps Human
Transformational Leadership
DevSecOps
NewOps