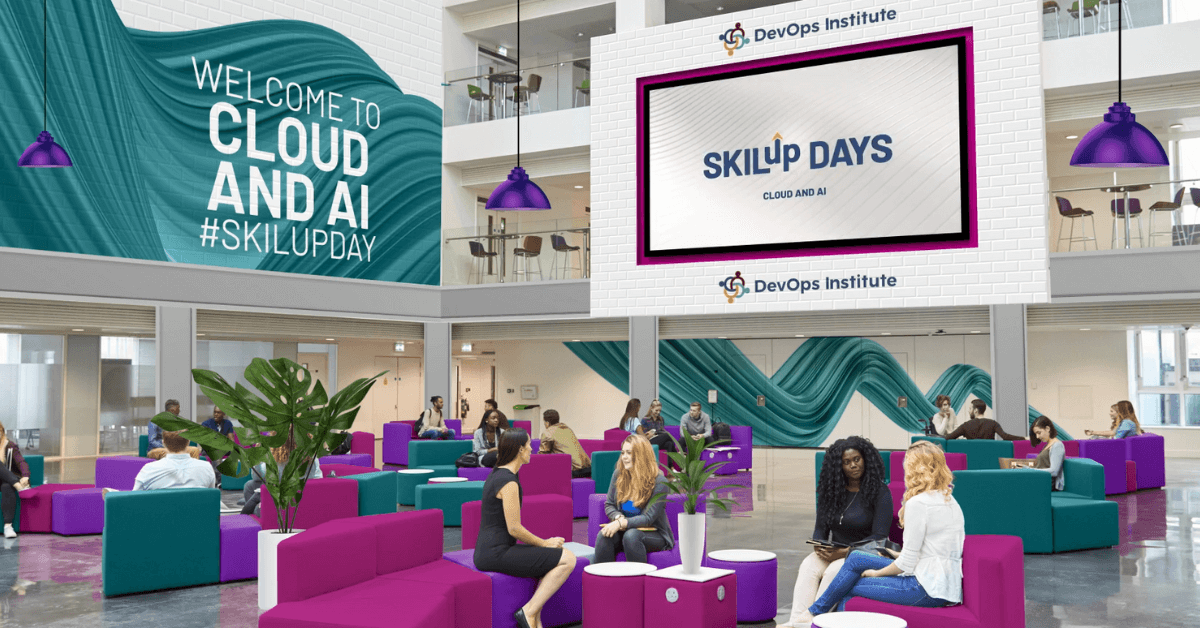 SKILup Day Cloud and AI Event Recap
Cloud and AI SKILup Day on June 30, 2022, offered insightful sessions, yoga, networking, a sponsor hall and even a DevOps-inspired mixology class! 
If you missed the Cloud and AI SKILup Day, we've got you covered with a round-up of the top themes from the sessions and conversations around this incredibly important topic.
Why Learning About Cloud and AI Is Important
Organizations have begun the journey into developing intelligent applications. Cloud-Native environments now offer the computing power that AI applications require. This SKILup day explored Cloud and AI and how these services and models can help you develop intelligent applications without requiring deep data science experience
We'll review the key discussion points that emerged throughout the day in this post.
T summarize, Cloud and AI SKILup Day speakers explored:
DevOps at Netflix

From DevOps to AIOps

Deconstructing AIOps: Is It Even Real?

Enabling Digital Transformation & AI

Transforming Contact Centers with AI & ML

Modeling Non-Functional Requirements for Business-Critical Applications
Cloud and AI SKILup Day Highlights
Tejas Chopra, Senior Software Engineer at Netflix, joined this SKILup Day with his session, "DevOps at Netflix." Chopra revealed how Netflix thinks about DevOps and how culture informs our thoughts on Agile practices, DevOps and development. Chopra provided a glimpse of how loosely coupled, and highly aligned, Netflix is and how you can apply some parts of our culture to your organizations. He also explored how you can leverage data to drive your business
During the session, "From DevOps to AIOps," DevOps Institute Ambassador Alejandro Mercado of Dynatrace highlighted that AIOps is Artificial Intelligence for IT Operations applications, while DevOps is a great way to improve IT and operating systems that accelerate development and deployment. AIOps is an approach that automates IT Operations and AI model-driven auto-remediation. He then explored the key concepts of AIOps, what using AIOps means for your business, the most common challenges and other considerations, and advice to implement AIOps in your current DevOps practice. 
Melissa Sussmann, Lead Technical Evangelist at Sumo Logic, lead the session, "Deconstructing AIOps: Is It Even Real?" Sussmann explored how machine intelligence is applicable to IT Operations on the cloud by discussing the deconstruction of AIOps. Sussmann then did a deep dive into Artificial Intelligence, addressing the limitations around data sets and implicit bias coded into machines. Sussmann then explored what this means for IT Operations and how AI-based parsing utilities can help site reliability engineers (SREs), operators and developers with threat detection.
Colleen Nagle, Founder and CEO of Muse Platforms, shared real-world experience during the session, "Enabling Digital Transformation & AI." In the session, Nagle discussed the Platformer framework that guides and governs transformation and AI innovation in her organization; helping leaders overcome obstacles and achieve their goals. She then shared how mindset, story, and strategy are the foundations of a strong organization that's ready to transform. Nagle supported how innovation in AI is leading as a differentiator to help brands drive market share.
You may also like – What Are Cloud AI Developer Services?
Arte Merritt, Conversational AI Global Segment Lead at AWS, shared key insights in his session, "Transforming Contact Centers with AI & ML." He explained how enterprises are leveraging AI and ML in contact centers to improve customer satisfaction, gain insights and reduce operational costs. Merritt then explored AI solutions including self-service automation, real-time analytics, and agent-assist capabilities, that increase agent performance and provide a better overall customer journey.
Sameer Paradkar, Enterprise Architect at AtoS, shared subject matter expertise during his session "Modeling Non-Functional Requirements for Business-Critical Applications." Paradkar explored modeling and sizing critical NFRs for large distributed systems on the cloud. He highlighted how non-functional requirements (NFRs) define system attributes such as security, reliability, performance, maintainability, scalability and usability. They serve as constraints or restrictions for the design of the system across different backlogs. He then asserted that NFRs are just as critical as functional epics, capabilities, features and stories. They ensure the usability and effectiveness of the entire system. Failing to meet any one of them can result in systems that fail to satisfy internal business, user, or market needs, or that do not fulfill mandatory requirements imposed by regulatory or standards agencies.

Get certified in DevOps Engineering Foundation
Graphic Summaries
For a quick recap, check out the sketches below:
What's Next?
From tech-centered webinars and virtual conferences to in-person gatherings, advance your career with DevOps Institute Events: https://www.devopsinstitute.com/events/
Get DevOps Certified
Now more than ever, organizations need DevOps professionals with validated skills and knowledge to support their digital transformation. At DevOps Institute we offer certifications across several core DevOps competencies to help advance your DevOps career and grow professionally. Learn more and get certified at devopsinstitute.com/certifications