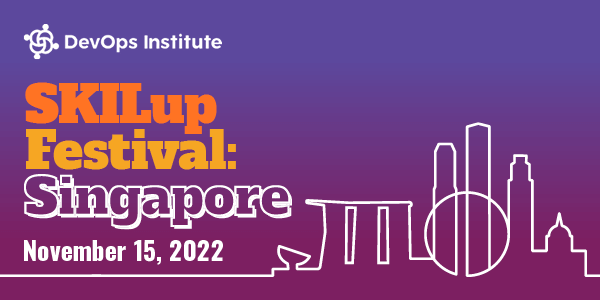 Early Bird pricing and registration is now open for the conference dedicated to empowering the people who power IT
LEHIGH ACRES, Fla,–Sept. 27, 2022 – DevOps Institute will host SKILup Festival in Singapore on November 15, 2022. The event will empower the people who power IT with the skills they need to succeed in the digital age. After the success of SKILup Festivals held in Denver and London earlier this year, SKILup Festival Singapore is not to be missed! The agenda is packed full of keynotes, interactive sessions and networking opportunities for IT practitioners of all levels. Check out this recap from SKILup Festival London for what to expect in Singapore. 
At in-person events, attendees can surround themselves with leading minds in the IT industry and learn firsthand from expert-led sessions and hands-on workshops. There will be ample opportunities to network with industry peers, and the festival fun will continue at the afterparty.
"DevOps has quickly become one of the most important areas of technology and practitioners are being asked to keep up with this demand," said Jayne Groll, CEO of DevOps Institute. "Ultimately, the goal of this in-person event is to create the best place for IT professionals–at any level–to explore, interact, and build the knowledge that will advance their career, team, and enterprise."
Three Reasons to Attend SKILup Festival Singapore:
Join a welcoming environment for IT professionals of all levels to explore, interact, and build the knowledge necessary for DevOps and IT success.

Learn from renowned industry experts with deep expertise from the front lines of the IT industry during educational sessions and workshops. 

Earn Continuing Education Units (CEUs) – this year, DevOps Institute introduced a

Continuing Education Program

so community members can earn CEUs and demonstrate their commitment to lifelong learning and maintain and renew their DevOps Institute certification(s).
Learn more about SKILup Festival Singapore: https://youtu.be
About DevOps Institute
DevOps Institute is a global learning community that empowers the people who power IT – helping you develop both the professional and personal expertise to make the most of DevOps in both your business and your career.
Focused exclusively on all things DevOps and digital transformation, we offer IT professionals – at all levels – deep practical knowledge, a welcoming network of industry leaders, respected certification programs, and insider events.
Web | https://devopsinstitute.com/
Twitter | @DEVOPSINST
LinkedIn | /devops-institute
YouTube | DevOps Institute
Instagram | @humansofdevops
Facebook | Humans of DevOps