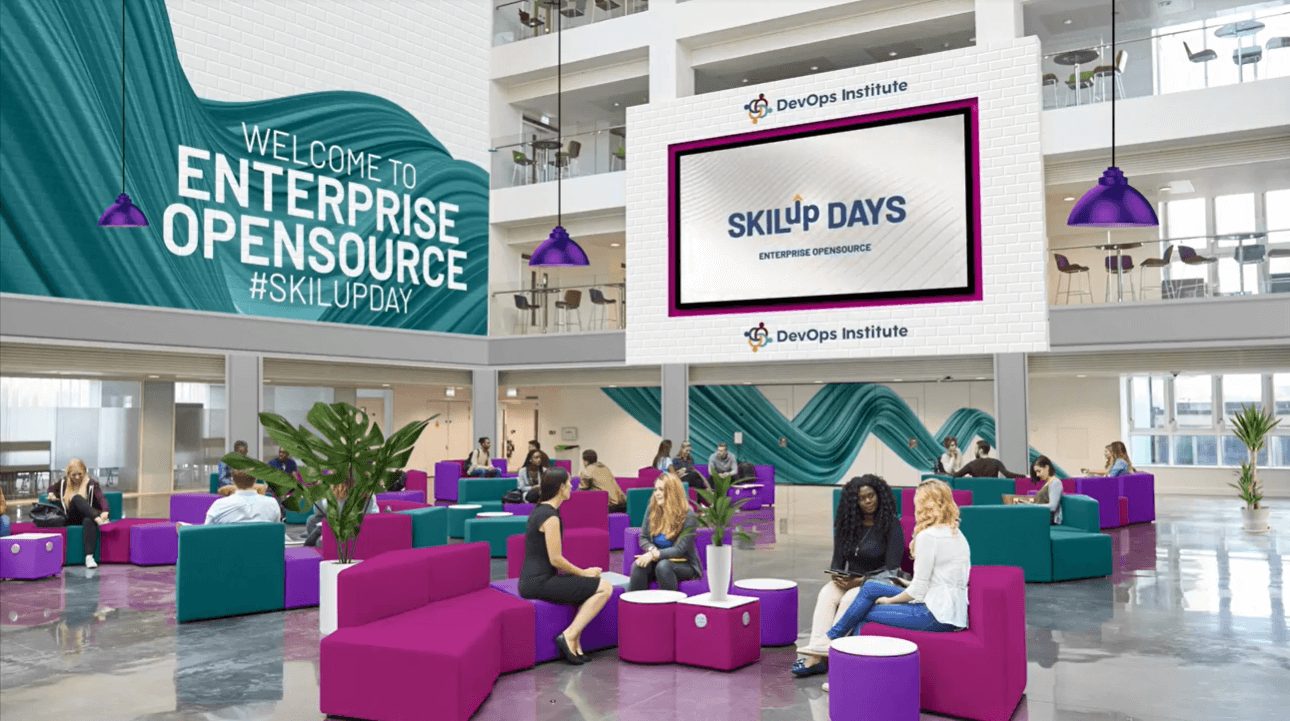 Enterprise Open Source SKILup Day on August 18, 2022, offered insightful sessions, yoga, networking, a sponsor hall and a DevOps-inspired mixology class! 
If you missed the Enterprise Open Source SKILup Day, we've got you covered with a round-up of the top themes from the sessions and conversations around this incredibly important topic.
Why Learning About Open Source Is Important
Open source is a key part of the Enterprise technology stack and has been since Linux took over as the OS of choice and Jenkins stole the hearts of the enterprise change management team. Today we have hundreds of options in open source covering the entire DevOps landscape from development through testing and release. This SKILup Day explored various aspects of open source.
We'll review key discussion points from the day in this post.
TL;DR: Enterprise Open Source SKILup Day speakers explored:
What open source tooling is available

Enterprise practices for managing open source

How you can also be part of the open source software revolution

Taking your Open Source experience to the next level
Enterprise Open Source SKILup Day Highlights
Javier Perez, Chief Open Source Evangelist at Perforce Software, joined this SKILup Day with his session, "What You Should Know About Risks in Open Source, from Vulnerabilities to Lock-in." Perez provided insight on how to identify key aspects of open source security and how to apply winning strategies to your projects. Perez indicated that while there's no question that open source has won, all software is being developed either in the open or with the building blocks of open source software. However, there are still risks that are sometimes misunderstood or simply unknown. He highlighted the risks that all organizations and industry professionals should be aware of including:
Community life cycle support and end-of-life versions

Open source license compliance

Investing and contributing to open source projects

Open source security and vulnerabilities
Jorn Knuttila, Senior Solution Architect at SUSE Rancher, set out to answer one of the most common questions asked about the now-open-source Kubernetes security platform, NeuVector, around best practices for security along the SLDC. Knuttila examined how to establish a zero-trust profile for an application, as it makes its way across Dev/Test, Q/A and eventually to a Production cluster. He emphasized how it's possible to have a low effort and high reward practice in your Kubernetes Security Framework. He explained that Zero-Trust is a particularly important part of the risk-based approach you should not be ignoring
Melissa Sussmann, Lead Technical Advocate at Sumo Logic, explored open source during the session, "Sumo Logic <3 Open Source Collection." Sussmann discussed Sumo Logic's contributions to open source projects and why it matters to DevOps engineers. She then discussed data collection and how open source tooling (such as Kubernetes, Prometheus, Fluentbit, and Fluentd) are used in this process. Sussmann then did a deep dive into Open Telemetry, why it is needed, and how this standard is reshaping data collection and application performance monitoring in the industry.
Finally, Helen Beal, DevOps Institute Chief Ambassador, and Ryan Sheldrake, Lead Sales Engineer and Solutions Architect at Lacework and DevOps Institute Ambassador, shared key insights during their seaside chat, "Taking Your Open Source Experience To The Next Level." They discussed key elements of Open Source including where to begin on your Open Source journey, security specifics and characteristics, and tools and practices you can employ to evolve your skills and expertise.
Graphic Summaries
For a quick recap, check out the sketches below. You can also watch the presentations and get the slide decks in SKILup IT Learning. 
What's Next?
There are many events, webinars, and in-person opportunities on the calendar. Check out the full DevOps Institute event calendar: https://www.devopsinstitute.com/events/
Get DevOps Certified
Now more than ever, organizations need DevOps professionals with validated skills and knowledge to support their digital transformation. At DevOps Institute, we have identified nine core competencies and offer various certifications to help advance your DevOps career and grow professionally.
Learn more and get certified: https://www.devopsinstitute.com/certifications/