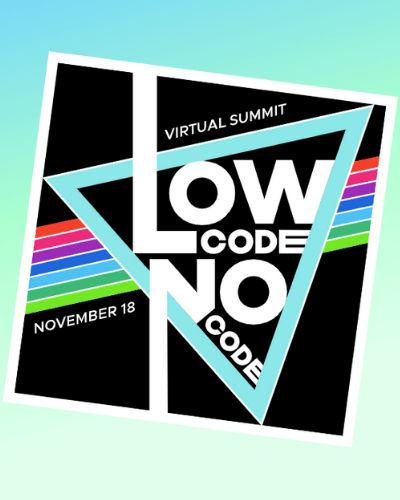 Low-Code/No-Code
Presented by DevOps Institute & Techstrong Live
Low code has come into its own in the development space as organizations increasingly adopt low-code and no-code technologies to enable IT to build solutions with minimal involvement from developers. As digital transformation efforts accelerated in 2020 due in large part to the COVID-19 pandemic, low-code is becoming a valuable part of the development environment. Low-Code / No-Code explores the vast and growing ecosystem of technologies that are changing the face of application development, featuring sessions that focus on the challenges and opportunities in low-code application development, including:
The rise of the citizen developer
Addressing security and compliance in low-code applications
Low-code vs. no-code
Trends in low-code
Low-Code/No-Code Agenda
Nov 18th, 2021
Julie Weiss
Founder | True Story Yoga
Welcome to Low-Code/No-Code
Alan Shimel
Founder & CEO | Techstrong Group
Integrate. Automate. Accelerate. A New Era in Incident Management
Daniel Topham
CEM for Digital – Strategic Solution Architect | Everbridge
KEYNOTE: Democratization of AI via Low-Code/No-Code Innovation
Dr. Melvin Greer
Chief Data Scientist | Intel
Data Connectivity and Low-Code/No-Code
Charles Kolodgy
Cyber Security Strategist, Advisor, & Educator |
Techstrong Research
How to Create Amazing, Transformative Mobile Apps – Faster
Gunndarr Dotter
Regional Sales Director | HCL Software
Andrew Manby
Head of Product Management | HCL Software
Challenges with Low-Code/No-Code Application Platforms
Bala Madhusoodhanan
Principal Architect | TJX
Critical Event Management in Digital Age
Paul Porter
VP of Sales Engineering | Everbridge
What to Look for in a Low-Code/No-Code Provider – A Customer Success Story With US Manufacturer Resco Products
Derya Sousa
COO & Co-Founder | Kianda Technologies
Daniel Wertz
Director of Information Technology | Resco Products, Inc.
Bringing Business and IT Together with Low-Code
Tejas Gadhia
Technology Evangelist | Zoho
Citizen Developers in the Non-Profit Space
Amy Hart-Koullapis
Communications Systems Specialist, Global Marketing &
Communications | World Vision International
Infrastructure-as-Code — But You Don't Have to Write the Code!
Venkat Thiruvengadam
CEO | DuploCloud, Inc.
Doing More with Low-Code in Salesforce
Girish Jashnani
CEO & Chief Architect | Flosum
Low Code Doesn't Mean Low Security
Eren Akbaba
Cloud Architect | IBM
Asna Javed
Hybrid Cloud Build Team and Developer
Advocacy Leader | IBM