July 2, 2019
In this age of digital transformation, adopting new technologies quickly is essential for a business's success. Take DevOps: ten years ago, many businesses didn't know what role DevOps engineers would play in their growth; now, DevOps positions are among the top recruited roles according to our Upskilling Report.
But within DevOps, technologies and processes change quickly too, which means that DevOps engineering skills needed change constantly to keep pace. While there are many skills that DevOps engineers can learn on the job, there are some that they should have from the very beginning — otherwise, they won't be able to learn the newest DevOps technology they will need in the future.
Having the right people on your team is critical for success, especially in the fast-moving DevOps world. That's why, when your teams start evaluating a candidate's potential, there are certain skills you'll want to be sure to look for. Below we break down a few key findings of the top skills demanded we uncovered in our Upskilling Report — download it today to discover all of the skills and how you can expand your knowledge.
Want to sharpen your own skills? Join the DevOps Institute Continuous Learning Community for free and gain access to unparalleled resources!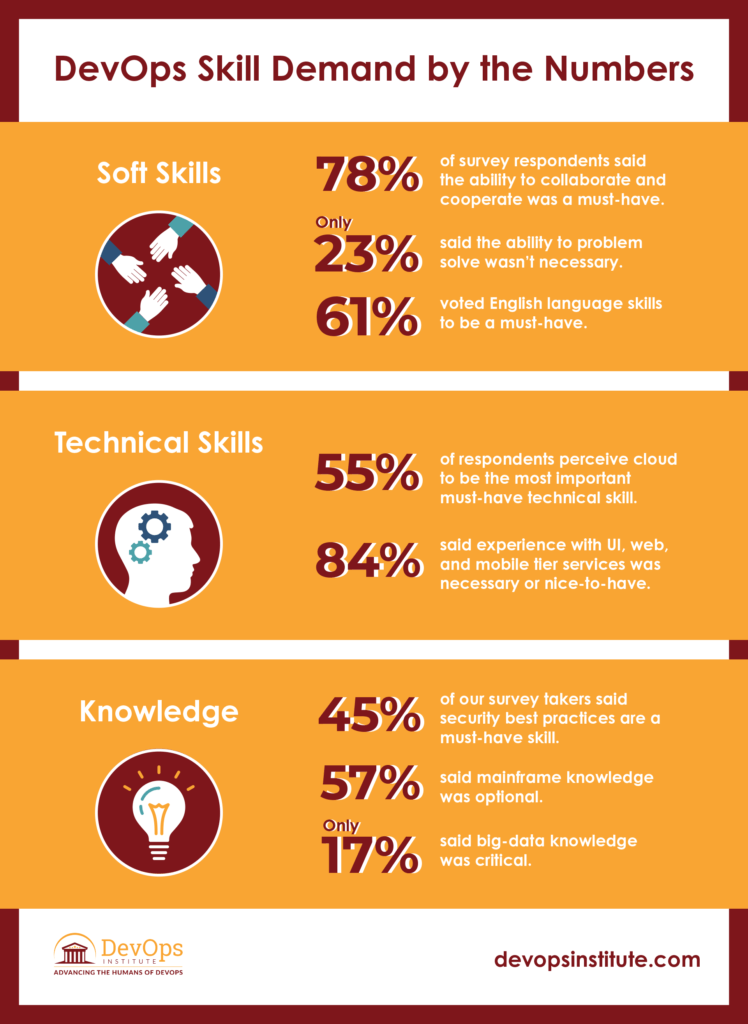 Soft Skills
"Soft skills" are personal attributes that empower professionals to interact effectively with other people. Though some people are often misled to think that soft skills are less important, especially within more technical fields like DevOps, soft skills are the key to a cohesive, productive working environment. Our research uncovered that 53% of respondents viewed soft skills as "must-haves".
As our Upskilling Report found, DevOps engineers must have certain soft skills from the start:
78% of survey respondents said the ability to collaborate and cooperate was a must-have
61% noted that English language skills are a necessity
Only 23% said the ability to problem solve wasn't necessary
Clearly, IT professionals consider the ability to perform well in a team environment a priority for DevOps hires. About 30% of respondents said they look for soft skills first, as they believe they can always train or educate on the process and technical skills.
Technical Skills
Of course, DevOps professionals must still have technical skills in order to perform at peak levels. "Technical skills" are those practical skills that DevOps engineers use in their day-to-day operations.
Currently, the growth of cloud-based mobile and web apps has created a large demand for related DevOps engineer skills; over half (55%) of respondents perceive cloud-based skills to be the most important of all.
As a testament to the new omni-channel and multi-device digital environment, 84% of respondents said experience with UI, web, and mobile tier services was necessary or nice to have.
Rounding out the top five must-have technical skills are analytical knowledge, specific frameworks (i.e. .NET, CSS, AJAX, SOA), and working knowledge within mobility and mobility environment.
The rapid advancement of technology is constantly causing the top technical skills to shift to accommodate the changing demand.
Knowledge
"Knowledge" is a slightly different category from "skills." Knowledge is information that DevOps professionals can learn via a website, book, or conference. In general, knowledge informs DevOps engineering skills; without it, skills lack strong foundations.
For example, 45% of our respondents said knowledge of security best practices is a must-have. With general knowledge of how to ensure a system's security, DevOps professionals can implement strong security measures when working on each and every one of their projects.
On the other hand, the majority (57%) of respondents said mainframe knowledge was optional. This could be a sign that one of the most expansive technologies created could be fading due to newer cloud-based technology trends.
Finally, only 17% of respondents said big-data knowledge was critical—a number that is expected to climb as big-data computing continues to grow in popularity in every industry.
Register for a free DevOps Institute community membership to stay ahead of the curve and educate yourself on these growing skillset demands.
Overview
When it comes to DevOps skills, only one thing is a guarantee: the DevOps engineers you hire need to be prepared to continually learn in order to navigate the ever-changing technologies they use now and will use in the future. But if you hire DevOps professionals with certain soft skills, technical skills, and knowledge to begin with, you can be sure they will be prepared to tackle the challenges your business has today—and those that tomorrow might bring, too.
Interested in learning more about critical DevOps skills? Download our the full Upskilling Report today.
And don't forget to join our free DevOps Institute Continuous Learning Community for access to more valuable resources and to continue learning!