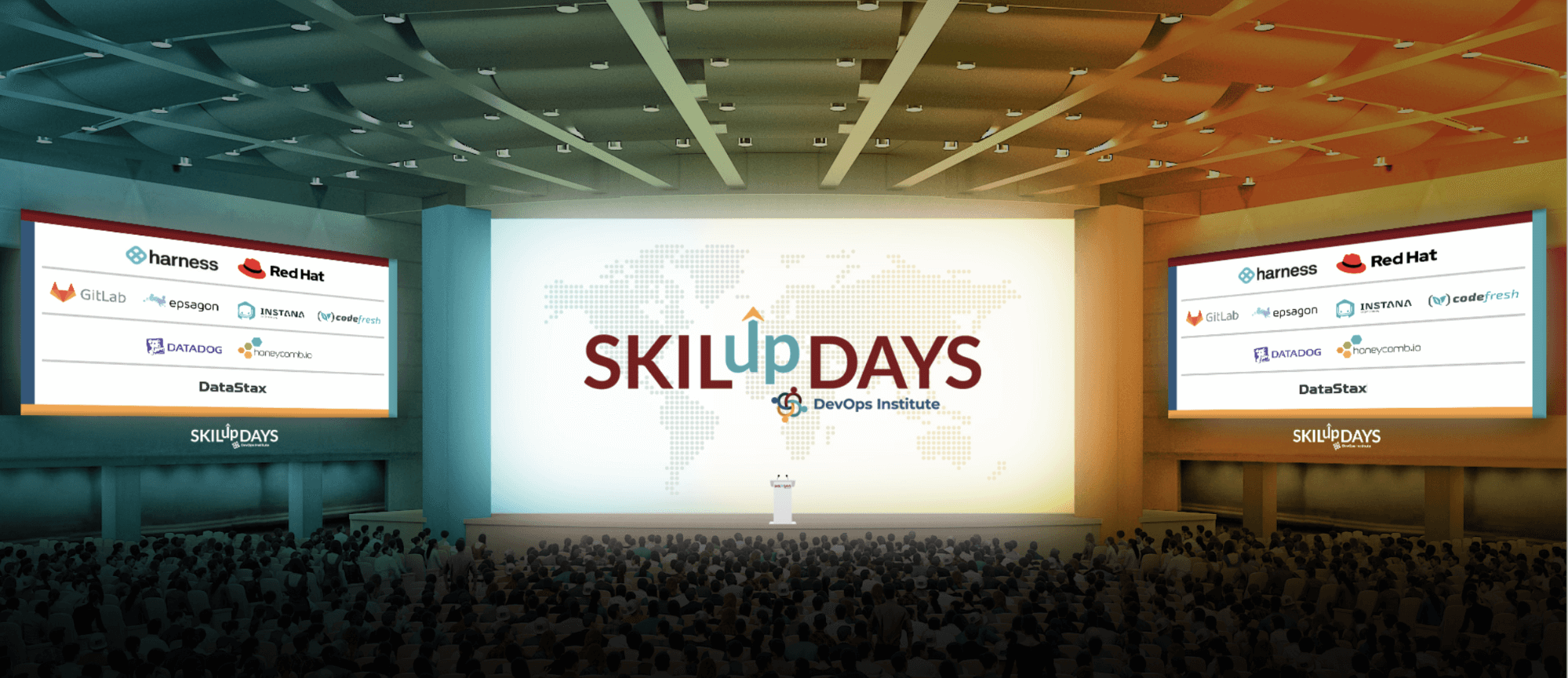 SKILup Day: Observability Event Recap
The one-day virtual conference explored Observability as a discipline. SKILup Day featured "how-to" lessons from speakers Greg Leffler, Tiffany Jachja, Ryan Sheldrake, Helen Beal, Neelan Choksi, Lee Reid, Ross Lazerowitz, Jan Schulte, Nick Chase, Chris Lentricchia, Abelardo Gonzalez, Kevin Keaney, and Charity Majors.
If you missed the Observability SKILup Day, we've got you covered with a quick round-up of the top themes that emerged from the sessions and conversations around the importance of the topic.
Why Devote a Full Day of Learning to Observability?
According to the State of Observability 2021 report by VMWare Tanzu, 92 percent of survey respondents said observability drives better business decisions. 
In this article published in DevOps Digest, Jayne Groll said, "Observability brings value to organizations as they look for ways to improve DevOps transformations. By 'observing' a system, an organization can better understand the internal and external state through observability." As Observability practices are still evolving, there are many trends to keep an eye on.
SKILup Day speakers covered several trending themes, including introducing various aspects of Observability, improving organizational performance, managing the development process and real-life use cases and experiences. Below we look at key discussion points from the day.
Read more: 11 Predictions for the Future of Observability
Crash Course in Observability
A key theme among speakers at SKILup Day was introducing the audience to various aspects of observability. Many speakers had specific insights into common pitfalls and provided insight on how to avoid them.
Charity Majors of Honeycomb, went back in time during the session, "History of Observability," from the SKILup Day archives. The session featured foundational insights from Majors on observability-driven development. She emphasized that "observability is the first step to high-performing teams because most teams are flying in the dark and don't even know it, and everything gets so much easier once you can see where you are going." Majors stressed that "Without observability, your team must resort to guessing, pattern-matching and arguments from authority, and you will struggle to connect simple feedback loops in a timely manner."
Ross Lazerowitz of Observe also shared valuable insights during his session, "Observability 101." He explored what observability is, why you need it and how to do it. Lazerowitz explained that observability is a critical part of developing, operating and troubleshooting modern distributed IT systems.
Chris Lentricchia of Instana presented the session, "Enterprise Observability: Behind the Term." He explained what enterprise observability brings to operations and DevOps teams and what makes enterprise observability different. Lentricchia then shared vital components of Instana's Enterprise Observability platform, and how those components can help observe environments. He explained that with the increasing complexity of modern cloud-native applications, enterprise observability is critical to delivering high-quality services. 
In his session, "Going Beyond the Three Pillars," Abelardo Gonzalez of Sumo Logic explored the differences between monitoring and observability and why it is becoming increasingly important. Gonzalez then shared how observability can be achieved by unifying telemetry and applying analytics to an entire data set.
Read more: Monitoring vs. observability: What's the difference in DevOps?
Improving Organizational Performance
How to improve organizational performance using observability was another area of focus that emerged during SKILup Day. Helen Beal shared key insights during her session, "Observability: DevOps' Crystal Ball." In addition to exploring the foundations of observability, Beal presented how AI offers ways to detect patterns and gain actionable insights into our products and platforms in a way never previously possible. She then explored connecting observability with outcomes that drive higher levels of organizational performance.
Neelan Choksi and Lee Reid of Tasktop joined forces for the session, "VSM is Observability for CIOs and Done Right, Creates Actionable Insights for Teams." They presented how enterprises are improving their chances of getting digital and DevOps transformations right using value stream management (VSM). They emphasized that VSM is the means toward continuous visibility and improvement in technology delivery organizations.
In the session, "Moving an organization from manual to full automation of deploys with DevOps," Kevin Keaney of xMatters shared practical advice and tactical tips on the three phases required to go from manual deploys to full auto deploys with self-healing:  embracing change, getting a good base and combining tools.
Greg Leffler of Splunk presented the session "Seeing RED: Monitoring and Observability in the Age of Microservices." Leffler explored RED (Rates, Errors, Duration) and why it's important for observability. With Red, he said you can get to your root cause faster, with fewer false positives and quicker resolution. After sharing challenges in monitoring microservices, Leffler presented the following key takeaways:
A common structure for monitoring allows for clarity in separate teams.

Understand that you need to tailor your focus to your needs.

Find the right tool to give you clarity and insight.
You may like: How to improve your observability systems
Managing the Development Process
Tiffany Jachja of Harness, went back in time during the session, "Managing The Process: Fundamentals in Lean Thinking," from the SKILup Day archives. Jachja discussed lean thinking pitfalls in DevOps teams and shared how lean principles apply to value stream management. She explained that many leaders are looking for effective techniques for their DevOps journeys, unifying people, processes, and technology. Lean thinking is a business methodology that aims to optimize the software development and delivery lifecycle. However, applying a lean mindset often brings challenges, as people are less likely to change how they work. She emphasized that "People take over where processes fail. Creativity and innovation come from freedom and problem-solving. Lean Thinking is more than just the focus of efficiency."
Nick Chase of Mirantis shared first-hand experience during his session, "A Day in the Life of a Developer: Moving Code from Development to Production without Losing Control." He presented that Kubernetes can be complicated, and the production environment is rarely a duplicate of development. He said containers help, but only a true software development pipeline can prevent serious problems such as security holes, simple but annoying configuration errors like misspellings, and business issues such as executive approval for promotion of changes. But as recent events have shown, even a software supply chain can be vulnerable.
Chase shared what a complete software supply chain looks like, common "weak links" in that chain and how to strengthen them. He then gave tangible advice on how to integrate your workflow as a developer, when business concerns affect the pipeline and how to take them into account.
DevOps Institute Ambassador Ryan Sheldrake returned for another SKILup Day. This month, he presented the session "Watching the Moving Clouds." Sheldrake indicated that with today's multi-cloud and cloud-first approaches, fueled by change and infrastructure as code; it can be difficult to keep up with what is running, where it's running and of course, observe security issues accurately. 
Sheldrake's session shined a light into multi-cloud and cloud-first environments to gain timely and insightful visibility using various tools. He then explored open source and commercial tools as well as described the struggles faced when trying to observe and manage security in the cloud world.
Finally, Jan Schulte of Epsagon presented the session, "Accelerate Product Development and Optimize Engineering Efficiency with Observability." Schulte expressed the familiar unease when a customer opens a support ticket because of strange behavior in your application: "You already know it'll be a long debug session, including tedious log file traversal to find out what's going on. I'm sure you've been in these situations before, too. Log files can contain enough information to diagnose issues, but once you need to correlate across several files in a microservices-based architecture, it becomes a very time-consuming task. Microservices come with a long list of advantages, but are you ready for the increased operational complexity?"
Schulte then explored how observability and distributed tracing support you in diagnosing issues quickly in modern environments.
Upskill Yourself
IT leaders are looking to hire DevOps Humans who can help advance digital transformations and fill in skills gaps. DevOps Institute is the source for accelerating the upskilling journey through certifications. Learn more about Observability in the Observability Foundation Certification Course available now.