March 2, 2021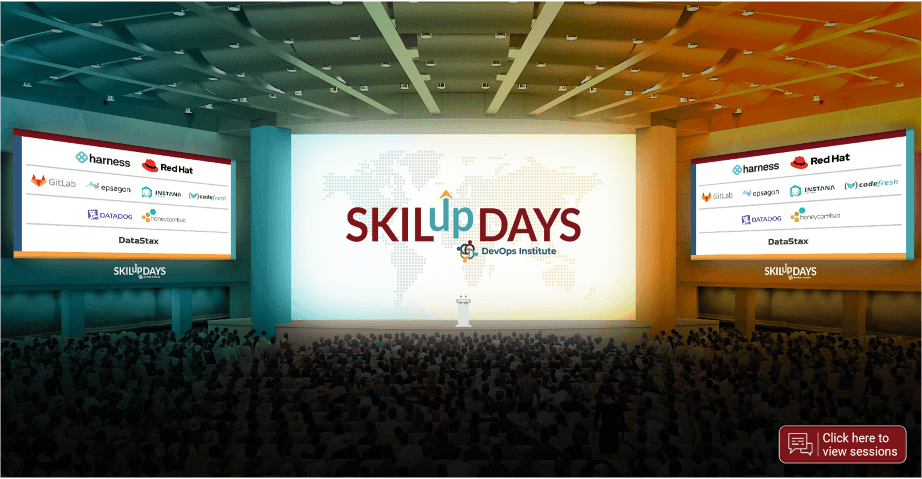 The month of February marked the return of SKILup Day conferences at DevOps Institute. To kick things off, we declared February as Cloud Native and Serverless month!
SKILup Day: Cloud Native and Serverless was hosted on February 25
The one-day virtual conference explored how cloud native and serverless development today is about 'how' applications are created and deployed, not 'where'. SKILup Day featured 'how-to' lessons from speakers: Ernesto Garbarino, Marco Coulter, Ravi Lachhman, Bryan Feuling, William Chia, Daniel Oh, Shelby Spees, Chinmay Gaikwad, Pawel Piwosz, Martyn Coupland, Viktor Farcic, Rachel White, Tracy Ragan, Robert Hostlowsky, Leonardo Murillo.
In addition to a full day of sessions, the event offered yoga, a scavenger hunt, networking lounge, exhibit hall, resource library, and even a DevOps-inspired mixology class!
If you missed the Cloud Native and Serverless SKILup Day, we've got you covered with a quick round-up of the top themes that emerged from the sessions and conversations around the importance of the topic.
You may ask, why devote a full day of learning to Cloud Native and Serverless?
Cloud native and serverless is an approach to building and running applications that exploits the advantages of the cloud computing delivery model. As more enterprises focus on improving the quality, speed and functionality of their technology, there is a rise in cloud native and serverless adoption. The February SKILup Day offered an in-depth look at these trending topics from some of the top thought leaders in the industry.
SKILup Day speakers covered several trending themes, including an introduction to various aspects of cloud native and serverless, an in-depth look at how to prepare for a transition to cloud native and serverless, observability challenges and requirements, and real-life use cases and experiences. Below we look at key quotes and discussion points from the day.
An Intro to Cloud Native and Serverless
A key theme among speakers at SKILup Day was introducing the audience to a variety of aspects of cloud native and serverless. In his presentation, "Introduction to Cloud Native and Serverless in Azure," Martyn Coupland discussed cloud native and serverless services in Microsoft Azure, common pitfalls of using the services, and how to scale and deploy cloud native applications. "Increased developer velocity, boost team performance, and reducing time to market are just a few benefits of serverless technology," he explained.
Ernesto Garbarino who kicked off the sessions for the day, shared unique insights during the session, "Kubernetes: A Gateway Drug for Vendor Lock-In." The session featured unique insights from Garbarino who noted some key challenges: "Building a truly portable, complex application without any cloud primitives is difficult, and sometimes, impossible…unless third-party services are used for everything."
"Cloud-Native is about taking advantage of the unique properties of the cloud to deliver software," said William Chia. Chia explored why enterprises are moving to cloud native and how the most successful are making the change during his session, "Intro to Cloud Native Transformation."
How to Prepare for the Transition to Cloud Native and Serverless
Marco Coulter gave tangible advice for those looking to transition to serverless during his session, "Get Ready to Spend More on Serverless Than you Expect, and be Happy About it." He focused on teaching the audience what to prepare for and gave advice on what will not work in the microservice ecology."Building a truly portable, complex application without any cloud primitives is difficult, and sometimes, impossible…unless third-party services are used for everything."
Many speakers had specific insights into how to transition existing cloud-native microservices to serverless functions in order to optimize resources on Kubernetes. Daniel Oh gave helpful tips during his fun session, "Get Quarkus Funqy the Next Time you Hit a Serverless Dance Floor!" Oh walked attendees through how Quarkus Funqy makes you(developer) dance on the serverless floor without code changes.
According to Viktor Farcic, "All That Developers Need Is a Browser (or How to Be More Productive by Having Less)." He presented the idea that all you need is a browser and that it doesn't matter whether you have a laptop, desktop, Chromebook, or a tablet. Further, he explored how you can be more productive without all those things.
During the session, "Continuous Delivery – Getting to Yes for Cloud-Native and Serverless," Ravi Lachhman explained which platforms and processes to try to achieve in order to get a 'yes' for new technology. Lachhman explained, "How do you have consistency with something that is short-lived? Welcome to the world of cloud native!"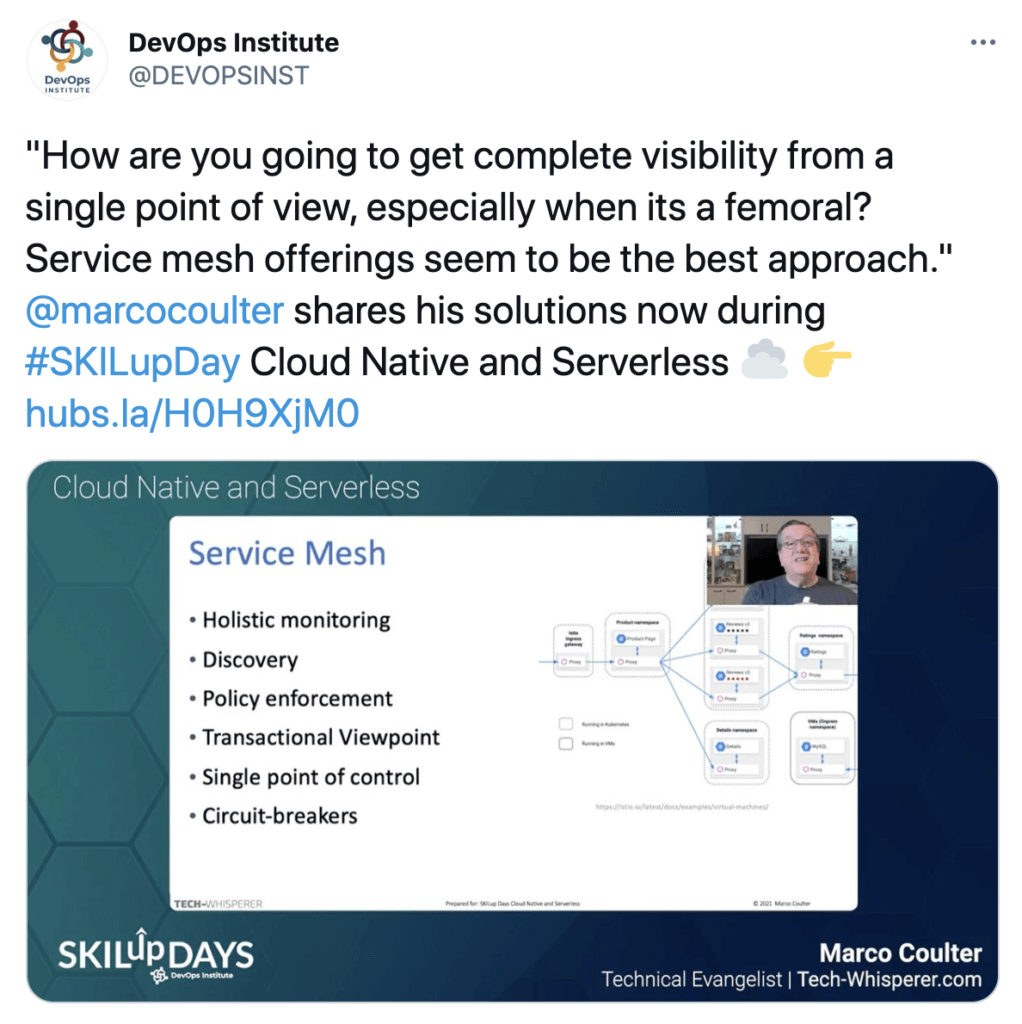 The Need for Observability
Observability was another theme that came up during several sessions. Chinmay Gaikwad explored how observability is becoming challenging for the DevOps and Engineering teams in the new age of a microservices and cloud-native world during the session, "Creating an Observability Strategy via Distributed Tracing." During the session, Gaikwad noted the importance of observability: "Observability isn't just a tool, it's a must-have culture for any organization."
Rachel White presented the session, "Monitoring Serverless Applications with Datadog." During her session she noted that "Larger organizations are embracing serverless the quickest." She also explored serverless functions and shared how to take traditional observability practices and adapt it to a serverless ecosystem.
Shelby Spees also took on observability during the session, "Observing Progressive Delivery: The Life of a Honeycomb Feature." Her session focused on observability-driven development and how it works with feature flags. She left attendees with a basic understanding of observability and practical steps to tighten feedback loops.
Cloud Native and Serverless in Real Life
The day continued with incredible first-hand advice from Robert Hostlowsky. Hostlowsky shared a session titled, "Lessons Learned While Running my Own GraphQL Trello Clone Without any Servers." The session included several of his own personal learning experiences and insights to help and inspire SKILup Day attendees. One of his key tips was: "Distributed systems in the cloud behave differently: Do load testing, start monitoring early and choose the appropriate tool."
During his session, "Progressive Delivery When Lives are on the Line," Leonardo Murillo gave a real-life examination of the challenges and solutions of deployment patterns for mission-critical services. Murillo shared, "You can do all sorts of things to make sure that your pods remain running, but if the node that they're running on fails, there's no magic Kubernetes can do to keep them alive."
Another real life 'how-to' session focused on an application for AWS. The session, "CI/CD for AWS Lambda Functions," by Pawel Piwosz shared insights into what CI/CD is and how to design a simple, yet functional pipeline on AWS with CloudFormation.
Tracy Ragan dug into GitOps with the session, "Hermetic Deployments – the Heart of GitOps." She explored the basic concept of GitOps and discussed the future direction and challenges of a GitOps methodology. "The idea of microservices is to create a high level of reuse and low code," she added.
What's next!
Want to know more about the sessions? Check out these graphical summaries provided by Mind's Eye Creative: